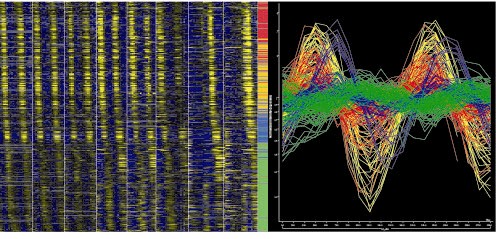 We report the genome-wide transcriptional program of the fission yeast cell cycle, identifying 407 periodically expressed genes, 136 of which exhibit high-amplitude changes. These genes cluster in four major waves of expression. The forkhead protein Sep1p regulates mitotic genes in the first cluster including Ace2p, which activates transcription in the second cluster during the M/G1 transition and cytokinesis. Other genes in the second cluster required for G1/S progression are regulated by the MBF-complex independently of Sep1p and Ace2p. The third cluster coincides with S-phase, whilst a fourth cluster contains genes weakly regulated during G2-phase. Below there are links to access various information relevant to our cell cycle data.
Rustici G, Mata J, Kivinen K, Li&oacute P, Penkett CJ, Burns G, Hayles J, Brazma A, Nurse P, and Bähler J (2004). Periodic gene expression program of the fission yeast cell cycle.
Nature Genet. 36:809-817.
A reprint is available as a PDF.
Gene expression viewer:
To check the expression value of your favourite gene use the search box below:
Use commas to separate multiple queries e.g. pat1,tea1.
Click on the gene name in the key (bottom of graph) to connect to GeneDB.
Supplementary Data:
Complete Normalized Data Sets:
All raw data are available under accession numbers E-MEXP-54 to E-MEXP-64 from ArrayExpress.